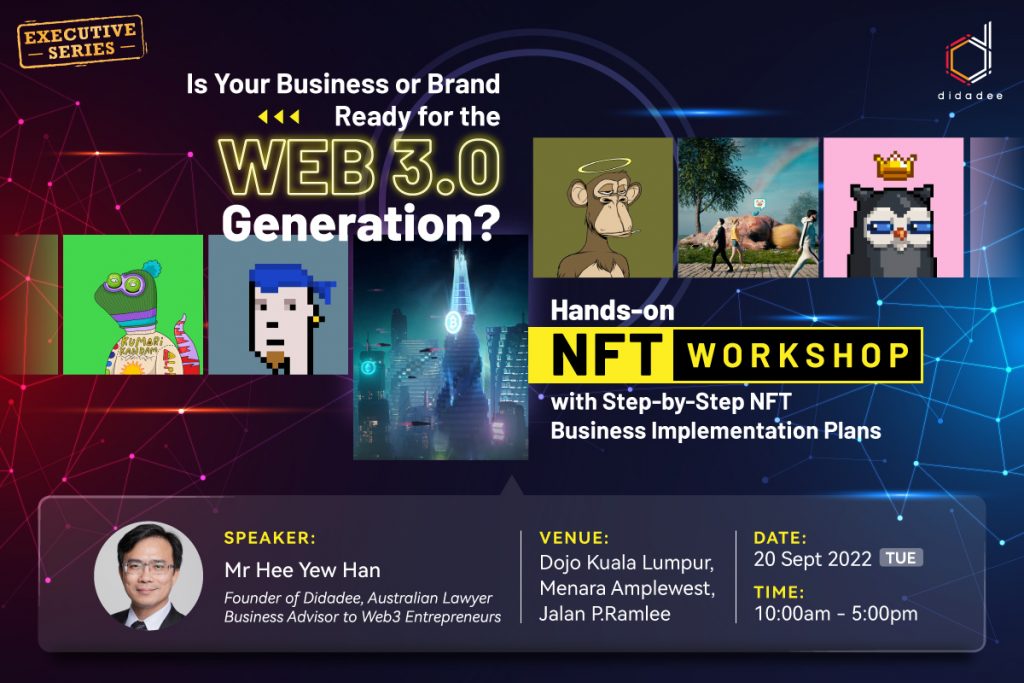 Introduction
The course will dive deep into NFT, from the basics to business implementation plans. With the rapid change of Web3 and NFT market space, the speaker incorporates the most updated information and use cases into the curriculum based on the successful projects or business models, ensuring participants are keeping abreast of the latest development.
To understand NFT, participants will first learn about blockchain and cryptocurrency. After learning about the mechanism of blockchain, cryptocurrency and NFT, participants will then create their own crypto wallet and have first hand experience of owning an NFT.   
Another highlight of this course is that our speaker will share valuable insights of how businesses could use NFT to apply it in Malaysia and worldwide markets.  Participants will be able to gain a concrete idea from the workshop about how to roll out an NFT project from the planning stage to the operational stage.
*Participants are expected to bring their own smartphone pre-installed with MetaMask crypto-wallet.
Workshop Outline
1. Introduction to the Web3 Generation
a. Introduction to the Web3 / Blockchain / Cryptocurrency / NFT / Metaverse
b. NFT 101 – Crypto-wallets, cryptocurrency, minting, gas fees, trading
c. Putting the first NFT into your crypto-wallet (client should pre-install MetaMask)
2. NFT Business Models
a. Arts & Collectables
b. Brand, Marketing & Promotions
c. Crowdfunding
d. Membership & Community
e. Charity & Non-profit Organisations
f. Play-to-earn Gaming
3. NFT Project Rollout Plan
a. WHERE – Platforms, targeted markets
b. WHO – Team, community, partners
c. HOW – Arts, technology, tools
d. WHEN – Roadmap, strategy, timing
4. NFT Project Life Cycle
a. Long tail effects, royalty and community
b. Industry specific tips
Speaker's Bio- Mr. Hee Yew Han 
Mr Hee is a modern polymath with over 27 years of experience as an entrepreneur, a lawyer, a management consultant, a systems engineer and an artist manager.  He started his career as an IT professional and later trained at Arthur Andersen to be a Management Consultant specialising in e-Business and Converging Technologies.  He founded multiple internet technology and entertainment businesses and he had produced multiple music records with tier-1 artists in the Greater China region, including the top selling album "Sixology" by JJ Lin.  In the past 10 years, he practises law in Australia.  His areas of focus include web 3.0 legal and regulatory issues, commercial and corporate law.  
Mr Hee is currently acting as legal and/or business advisor to more than ten NFT Projects, DAOs, Crypto Token Issuers and Crypto-Miners including: Animal Society, Kryptoria, KrubberVerse, Creepz DAO, Global Crypto Insights DAO, Envision, Enigma Economy, Delta Flare, YoCoin, Super Cyber Spider and Sitka World.
Mr Hee is the founder and principal consultant of Didadee Sdn Bhd and he is also a legal practitioner at Robertson Hayles Lawyers in Perth, Western Australia.  Mr Hee has held the following positions over the years:
a. Head of Internet Division, MCSB Systems Berhad
b. Business Consultant – Asia Pacific, Arthur Andersen LLC
c. General Manager, TOM.COM Limited (subsidiary of Hutchison Whampoa Limited)
d. Executive Director, Ocean Butterflies Music Pte Ltd
e. Chief Operating Officer, Emperor Entertainment Group
Mr Hee holds a Bachelor of Computer and Mathematical Sciences and a Juris Doctor from the University of Western Australia.
Workshop Registration
Date: 20th September 2022
Time: 10:00am – 5:00pm
Venue: Dojo Kuala Lumpur, Menara Amplewest, Jalan P. Ramlee
RM 499/pax – 1 Person 
Who Shall Attend: Brand & Business Owner, CEO, CMO, Marketing Director, Entrepreneur, Entertainment Artist