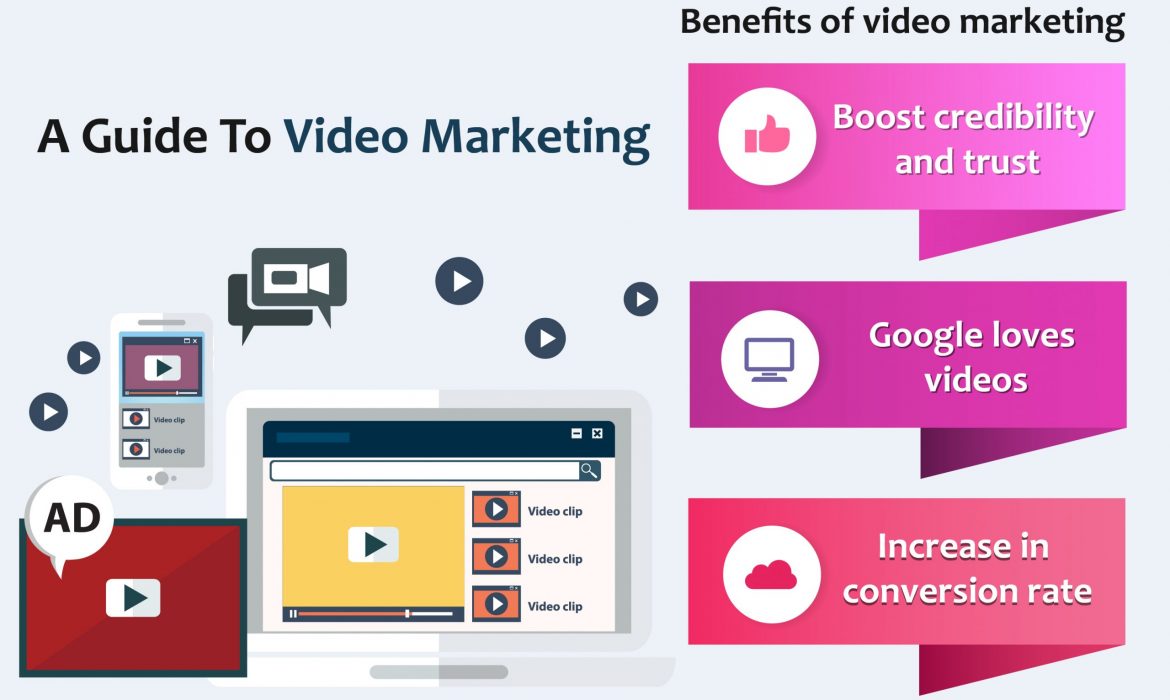 As the internet evolves over the years, we are seeing more and more channels through which businesses build their brands and reach their target audiences.
Video marketing is one channel that more marketers are incorporating into their marketing strategies. This is because, as a result of our hectic schedules, people would rather watch a 2-minute video than spend 20 minutes reading an article that articulates the same information.
If you have yet to try your hands at video marketing and are perhaps even apprehensive at this form of marketing, read on and find out what the benefits of using videos to build your brand are and it will not be long before you decide to hop on the video marketing bandwagon yourself.
Benefits of video marketing
BOOST CREDIBILITY AND TRUST
The aim of any video that you put out there should first be to attract your potential and current clients, then to provide them with information that serves to educate and inform, and lastly to entertain and leave them with a lasting impression.
Majority of viewers say that product videos are critical in them making their final decision in whether or not they would purchase an item or service. This is when trust is established between you and your customers.
GOOGLE LOVES VIDEOS
The role of search engines is to provide users with the most relevant and most viewed content. There is nothing more packed with information than a video, which is why YouTube videos are the most likely to appear on the first page of a Google search than any other type of content.
In order to maximize your website's performance on Google, plump up the video title and description tags with as much (relevant) information as you can input, embed your video on your webpage and social network platforms, and remember to promote your video!
INCREASE IN CONVERSION RATE
The ultimate goal of any marketing campaign is to increase conversion rates and boost sales. Videos do just that. Almost 70% of marketers have vouched for the success of video marketing over any other content marketing and over 80% of users have said that a well-made video pushes them closer to making a purchase.
Video marketing market in China: Vloggers
Recently, a popular Chinese vlogger made international headlines when a filter function malfunctioned on the livestream platform she was working on and the young lady was revealed in her true form – a middle-aged "da-ma" who had been deceiving her 100,000-plus followers with her youthful appearance made possible only through multiple filters.
While similar news has been circulating and shared on social media regarding Chinese vloggers, little is known about their world outside of their native China. Just what do these vloggers do and what is it that makes them so hugely popular?
WHAT IS A VLOGGER?
Simply put, a vlogger is someone who shoots short videos and posts them on a vlog platform. The top vlog platforms are YouTube, Facebook and Facebook Live, Instagram, Vimeo and Daily Motion.
In China, Douyin (known to the rest of the world as TikTok) is the leader of vlog apps with 250 million daily active users as of the end of 2018. Other popular vlog hosts in China include Tencent Video, Kuaishou, Weishi, iQiYi and Youku.
BITE-SIZED AND PERSONAL
As compared to their western counterparts, Chinese viewers prefer short and sweet videos that are about 3 to 5 minutes. These videos should be like bite-sized nuggets packed with entertainment and provide a peek into the vlogger's life.
Vlogs in China started off as a video version of a blog whereby its protagonists share their thoughts and views on various topics, as well as offer an insight into their daily life – their travels, food, pets, relationships and even what book they are reading or have read.
Followers to a vlogger are usually attracted by and entranced with the person on the other side of the screen who, through their sharing of their private lives and casual banter, feels like an acquaintance or even a friend. Hence, the term "下饭视频" (xia fan shi pin) or roughly translated – "goes well with white rice", was born. It refers to the loneliness and solitude that many youngsters in China feel studying or working alone in the city, and the companionship and entertainment that these vloggers provide them.
GETTING BIGGER AND BIGGER
2019 is expected to be a monumental year for vlogs in China as many video publishing platforms have started to actively promote vlogs on their apps since late 2018. For example, Bilibili has seen a 7.6 times increase in April 2019 in their vlog content upload, and Xigua has just recently started campaigns to provide more support to vloggers.
With the surge in both vloggers and viewers in China, the market is set to increase by leaps and bounds in the coming years.