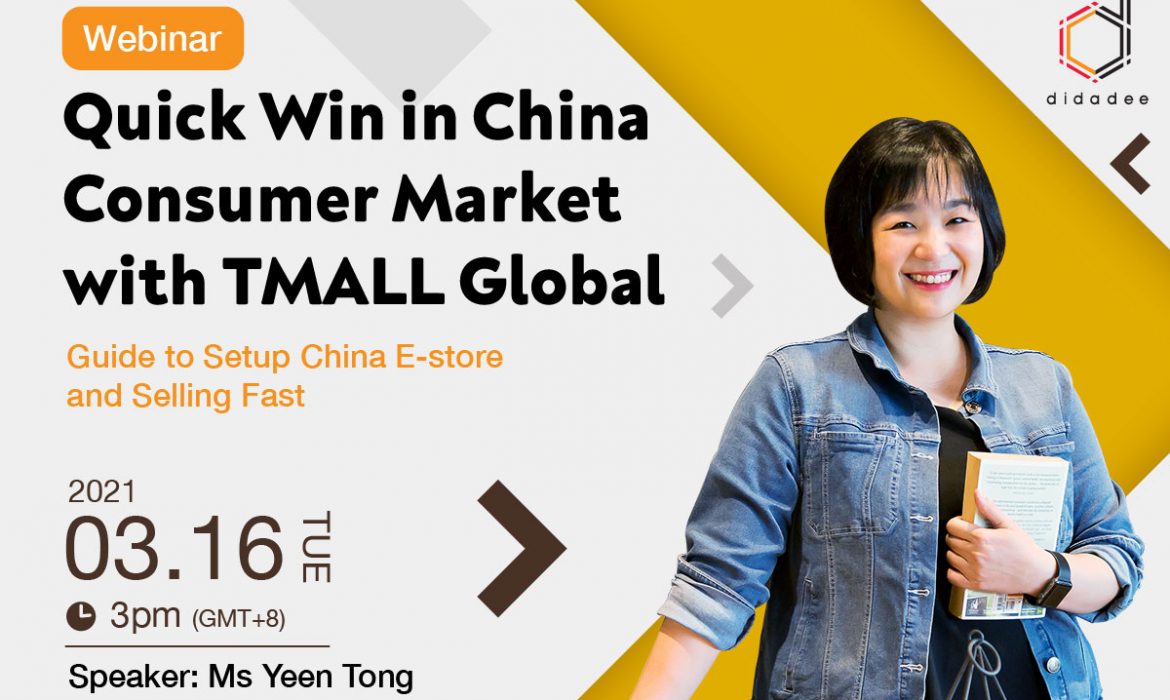 China is set to become the first country in history that will see a majority of its retail sales conducted online instead of via traditional brick-and-mortar stores.
Are your company/ business also aiming China market but do not know how to do it well?
Are your company/business badly affect by COVID-19 in 2020 and planning to extend to China market aggressively in 2021?
If yes, don't miss this 2 hours Webinar with DIDADEE, our specialist will be sharing in-depth knowledge on TMALL Global, , and the e-commerce market in China.
You'll learn about
1. Affected by the Covid-19 epidemic, current Internet trends in China, and changes in netizens' consumer behavior.
2. Cross-border e-Commerce: Why it is so important to your business? Which marketing areas you should take note? How to tap into China e-commerce ecosystem?
3. With the outbreak of the COVID-19 epidemic, China's social media selling is also booming. New Updates on Weibo, WeChat with you.
4. What did they do when everyone backed off and reduced their budgets? Share with you online marketing success stories
Even more (Limited seats for individual marketing consult)
1. The best Digital Marketing ideas to Boost Your Business.
2. The core strategy to build your brands for your business to reach more of your target audience.
3. How to connect your community and engage your customer quickly with our all-rounded China Digital Solution, Social Marketing, KOL Marketing, Social Media Management, Content Management, Advertisement.Registration Linkhttps://us02web.zoom.us/webinar/register/WN_p7Mkl5V3Q_u7BClYYcXQiQ