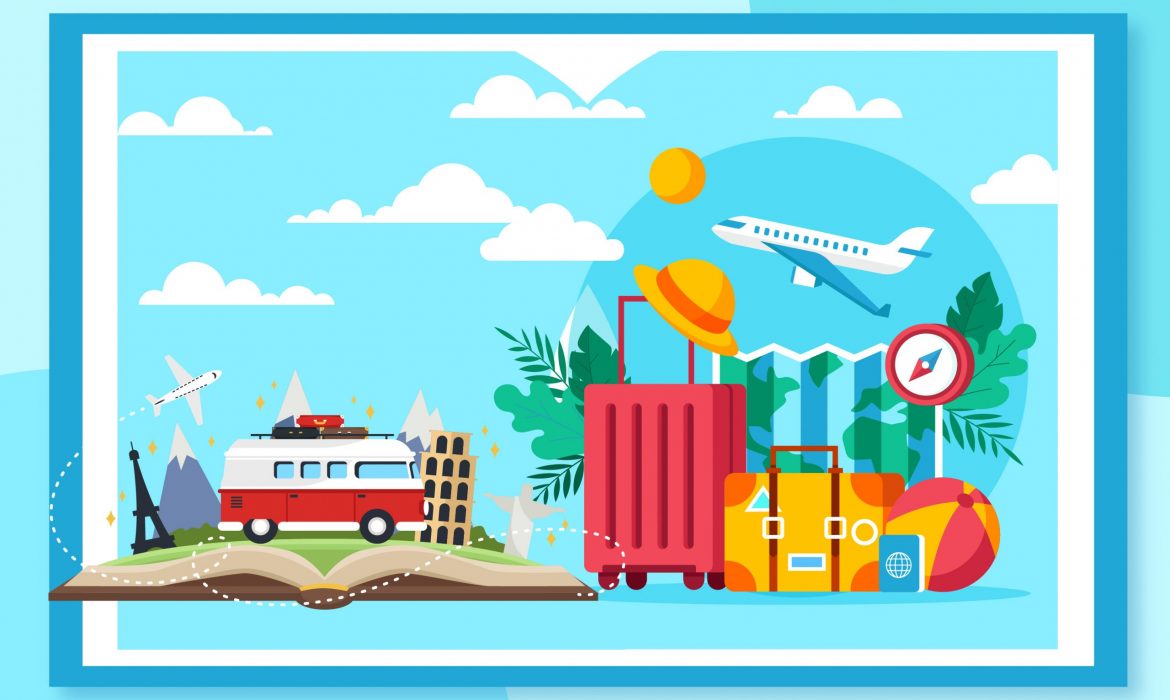 The number of outbound travelers from China has been steadily increasing year-on-year and it is no surprise that more and more tourist destinations around the world are now catering to meet their demands. While it is still early for us to monitor the statistics for 2019, it is notable that a whopping 150 million Chinese travelers made outbound visits in 2018, which was a nearly 15% increase from the previous year.
As more of us rely on our smart phones in our daily lives, it is no different when we go on holiday. What are some of the travel apps that Chinese tourists depend on in their travels? Here is the definite guide to the truly useful Chinese apps that cater to every traveler's needs.
THE PLANNING STAGE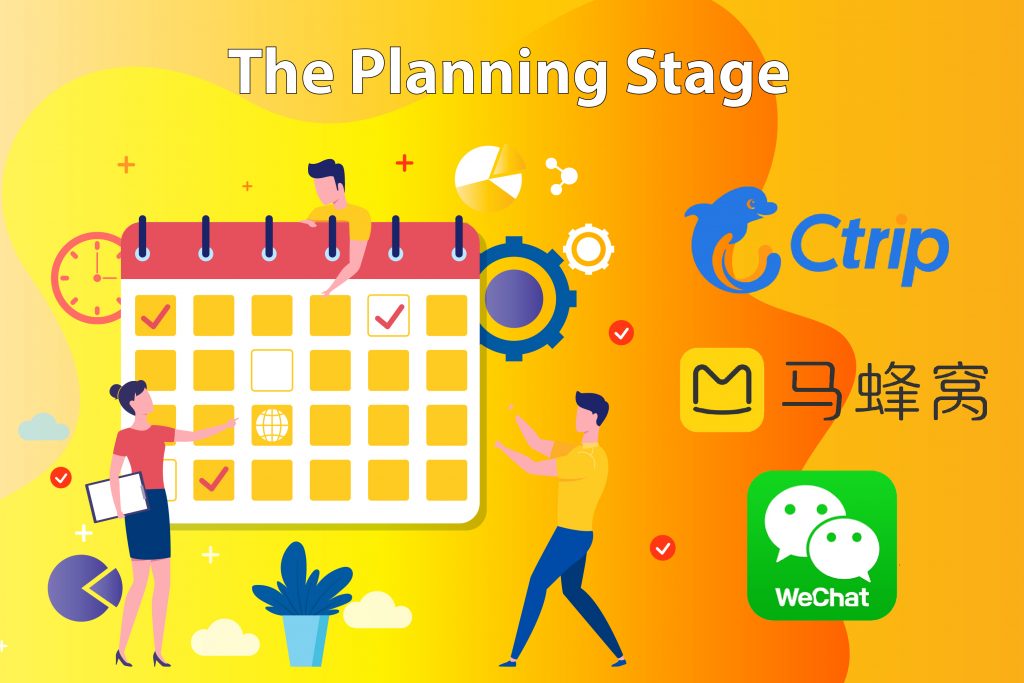 Ctrip
As part of a family of travel brands under Ctrip.com International, Ltd, Ctrip is an online provider of travel services such as accommodation and transportation reservation, as well as tour and corporate travel management. Ctrip is China's largest online travel agency with over 300 million users.
Mafengwo 马蜂窝
This popular social media travel platform, founded in 2006, has grown tremendously in the past 13 years and now has over 100 million users. Mafengwo was initially introduced as a forum for independent travelers to share their travel experiences, tips, recommendations and feedback with other users. It is now being operated as a social media platform where users can share itineraries, photos and reviews. To get a better picture of how Mafengwo works, think of it as a combination of TripAdvisor, Expedia and Lonely Planet.
WeChat
Chinese travelers use WeChat as an inspirational hub before their trips to help them make travel decisions by browsing friends' posts, exchanging ideas with friends on group messaging and doing research on attractions, hotels, airlines and eateries by visiting and following the establishment's respective official WeChat accounts. In terms of aiding travelers in the planning process of their trip, WeChat can be considered as the Chinese equivalent of Pinterest and TripAdvisor rolled into one.
THE TRAVELING STAGE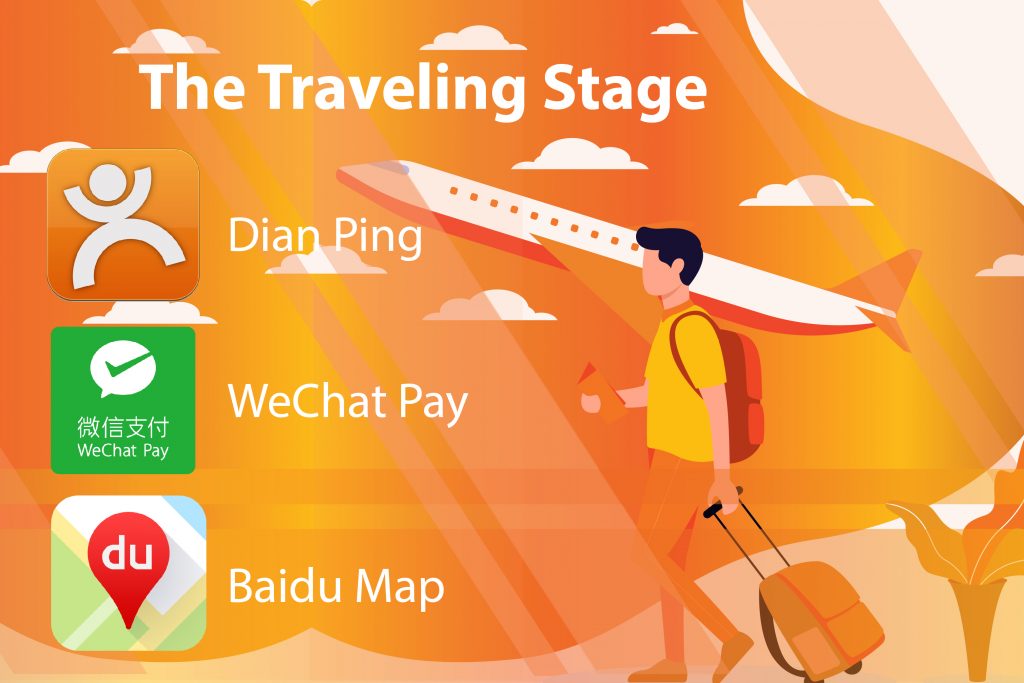 Dianping
While food delivery is its core business, Dianping has broadened its horizons to take a bite of the growing tourism industry in recent years as Dazhong Dianping. It is the go-to app for Chinese tourists both locally and overseas as it lists restaurants, retailers, cinemas, hotels and bars in the area where the user is located at and also provides reviews of these establishments. Dianping is the most used travel app by Chinese travelers overseas.
Baidu Maps
This web mapping service can be used on web-based and mobile platforms, and provides users with GPS navigation for public transportation, walking and for drivers. Users can also access live traffic conditions which will make their route planning more efficient and convenient.
Baidu Maps features one function that Google Maps lack and that is the 3D map search that allows users to locate venues that are above ground level. This handy app is now available in 150 countries, providing outbound Chinese travelers with accurate and updated information on locations overseas.
WeChat Pay
Chinese tourists are known to be big spenders and most of them would prefer if they could spend their money through mobile payments. This is where WeChat Pay comes in. Most Chinese travelers find that mobile payment apps are more reliable and convenient as they do not have to worry about carrying around enough foreign currency or increasing the limit on their credit cards.
In 2018,32% of outbound Chinese tourists utilized mobile payment apps for their transactions while overseas . WeChat Pay has upped its game in recent years by increasing its reach globally. It is now accepted in over 50 markets outside of China and supports 16 different currencies.